Meet James Daniel Valentine: Patriot Front's "Goodest_Boy"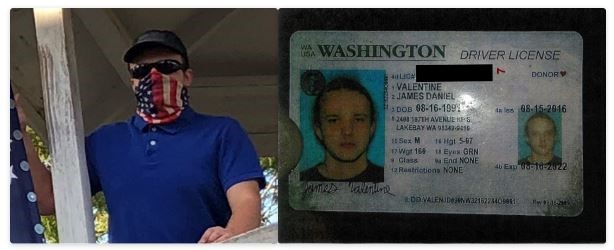 Patriot Front is a Texas-based American fascist, neo-Nazi group that was formed shortly after the Unite the Right rally in August 2017. The group, led by Thomas Rousseau, split from Vanguard America shortly after James Fields drove his car through protesters killing Heather Heyer. Thanks to the work of anti-fascists, we have a large collection of private messages from this group. These messages have been made available to the public thanks to Unicorn Riot. One of the most active networks within Patriot Front is located in Northwest Washington.
In July of 2018, Eugene Antifa reported on Patriot Front member Jake Prior. In that article, we also spoke of Patriot Front member "Goodest_Boy " whom we had pictures of but didn't have a name.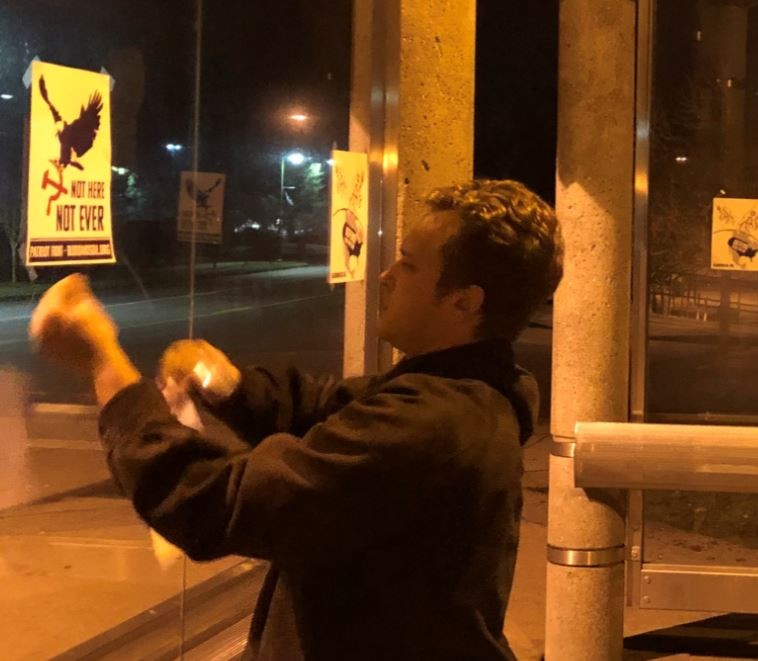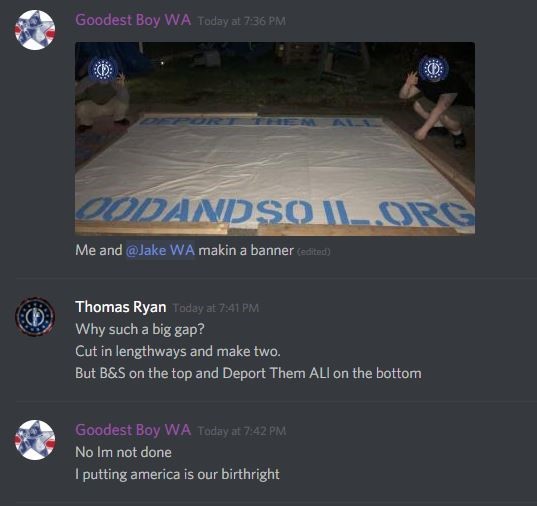 Thanks to the work of Chuck Tanner we now know his name is James Daniel Valentine.
James Daniel Valentine is a 27 year old American fascist who lives in his mother's house with his wife Christine in Lakebay, Washington. Valentine organizes locally and nationally with other fascists and is active around the Washington area putting up fascist propaganda and attempting to sabotage anti-racist activists' efforts. By reading his messages in a neo-Nazi Discord server, we have learned about his racist and misogynist views. What is, perhaps, even more troubling is his expressed desire to join the National Guard. We are increasingly seeing a trend of neo-Nazis involved with the military, and Valentine is another name to add to this list.
On the evening of December 6th, 2017, James Valentine and Jake Prior were stopped and ID'd by Olympic College security for putting Patriot Front flyers up on campus.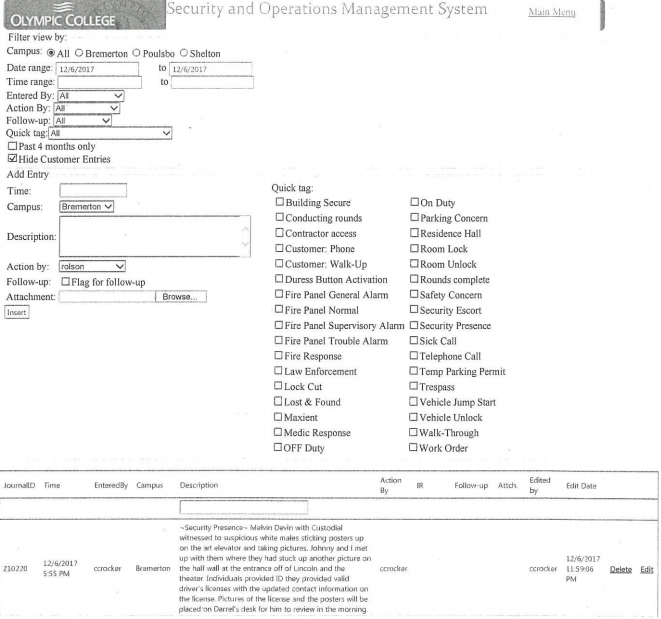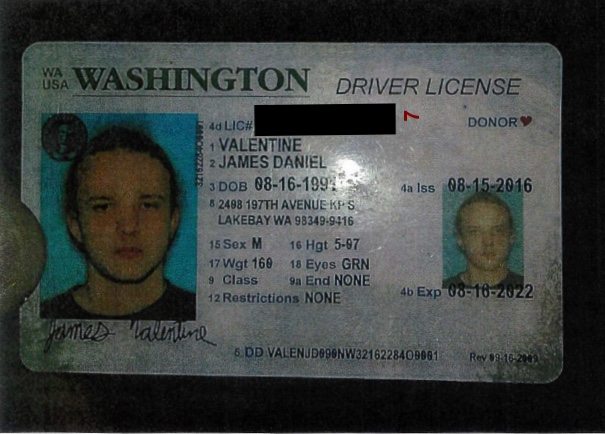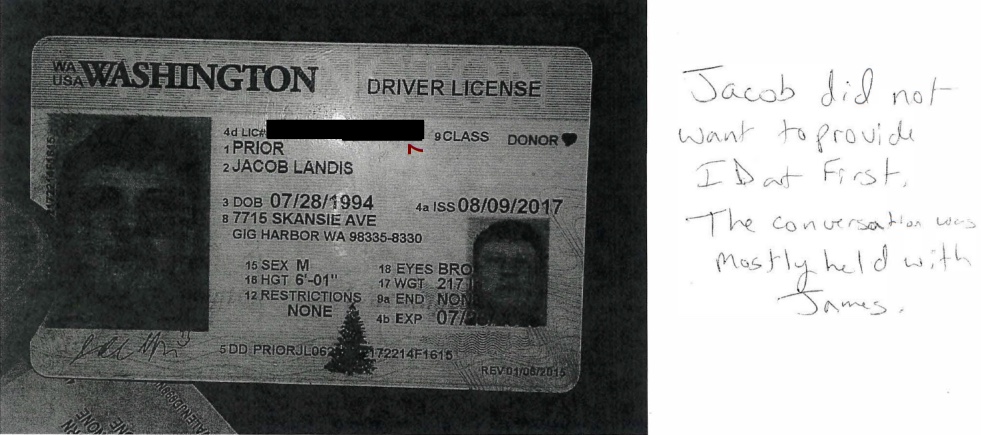 James Valentine appears to be the second Patriot Front member to join the Patriot Front chat on Discord. Possibly the first propaganda mission Valentine completed was with "Norman" the first weekend in October 2017. They flyered Gig Harbor and Olympic College for the first time. "Norman" gives Valentine much of the credit for that mission.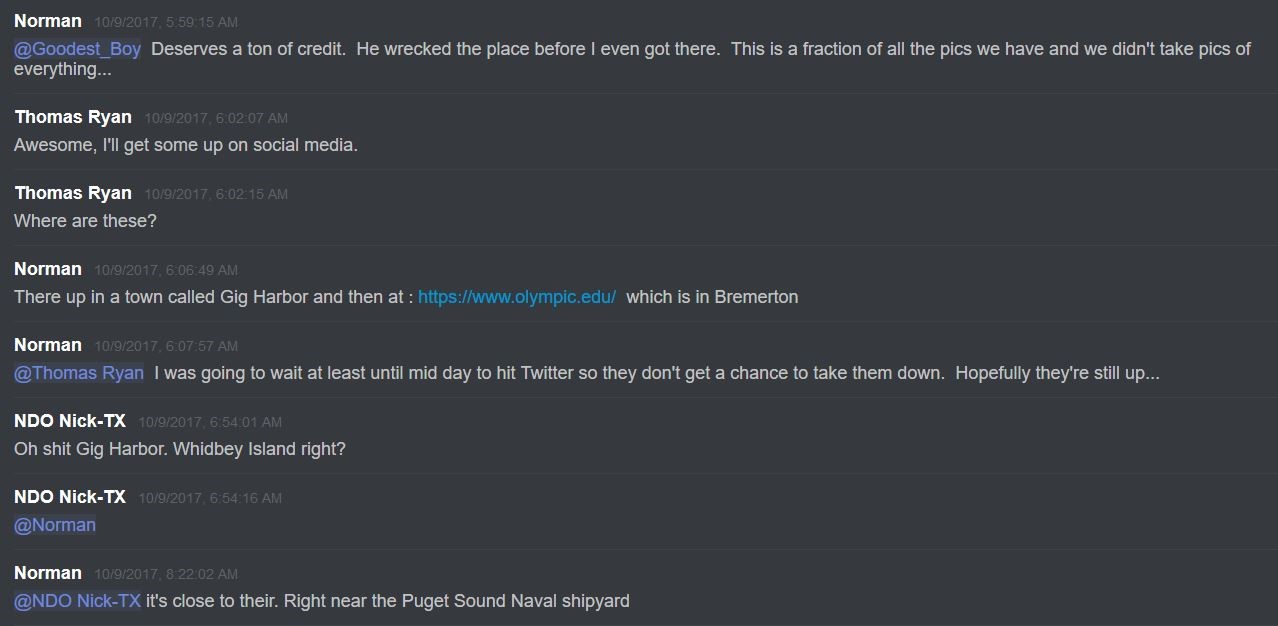 Valentine put up flyers in Port Orchard, Washington on multiple occasions.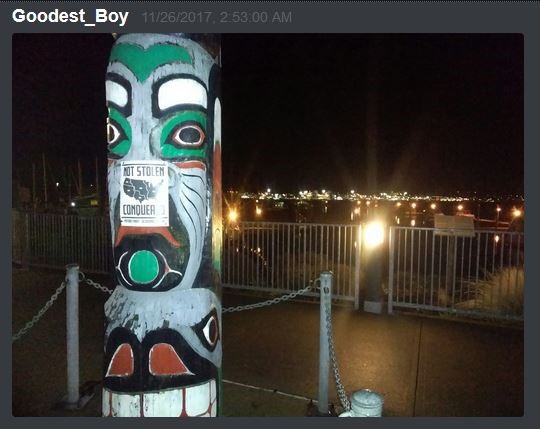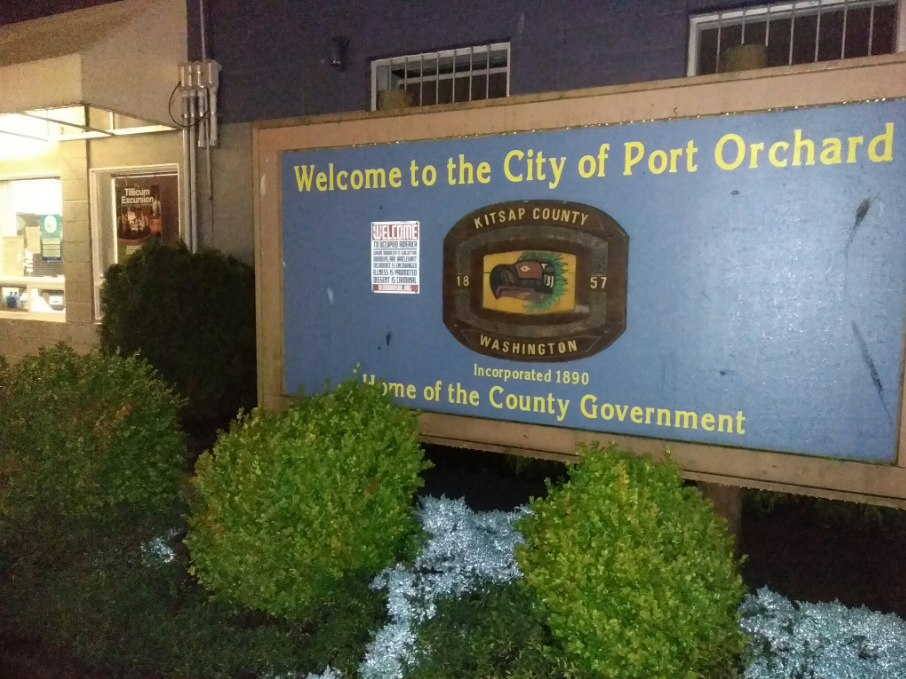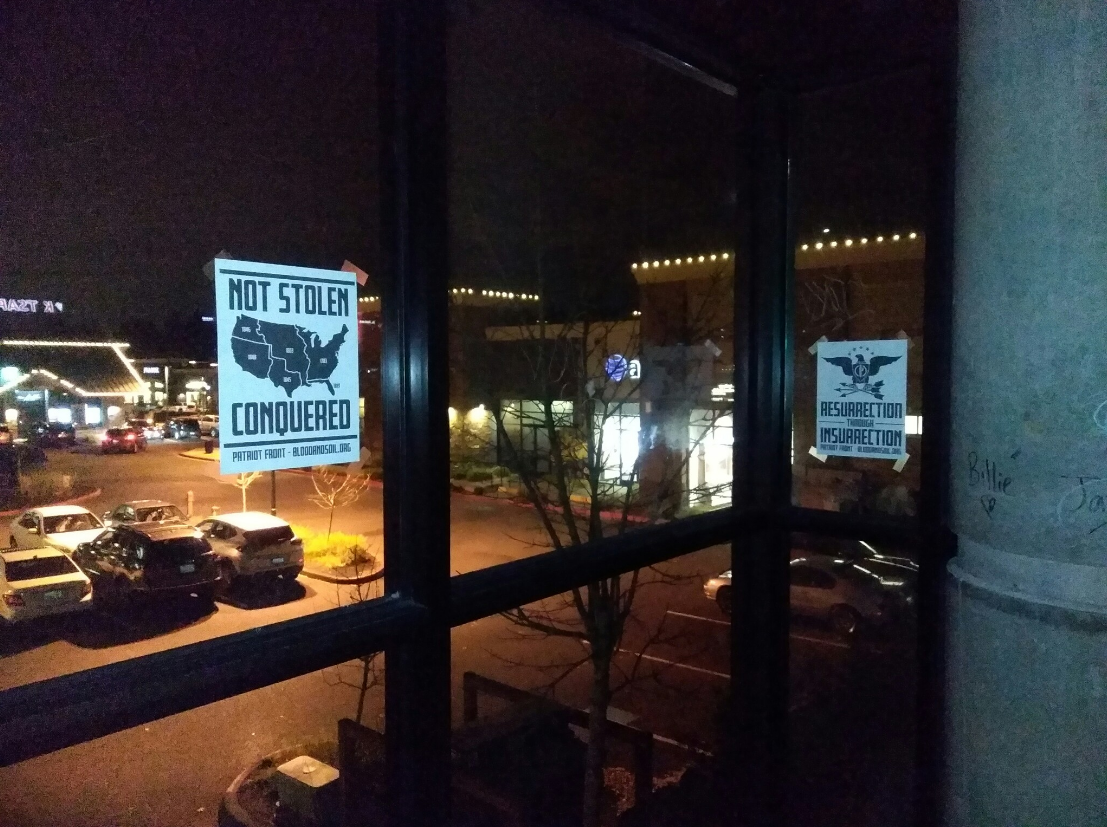 We know that Valentine and Prior aka "The_Human_Shoah" also put up flyers at Olympic College on December 6, 2017. Valentine also confirms this in the chat.

(Note: Valentine misspells college more than once in the chat.)
In December of 2017, members of the Washington network of Patriot Front, including Valentine, met up with members of Patriot Front from Utah and the PDX Daily Stormers to flyer Portland State University. Reed College and Portland Community College in Oregon were also hit with fascist propaganda.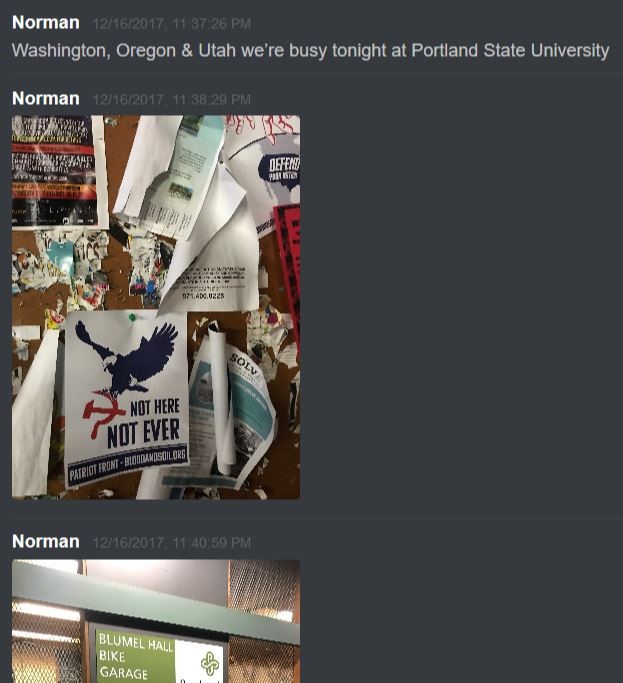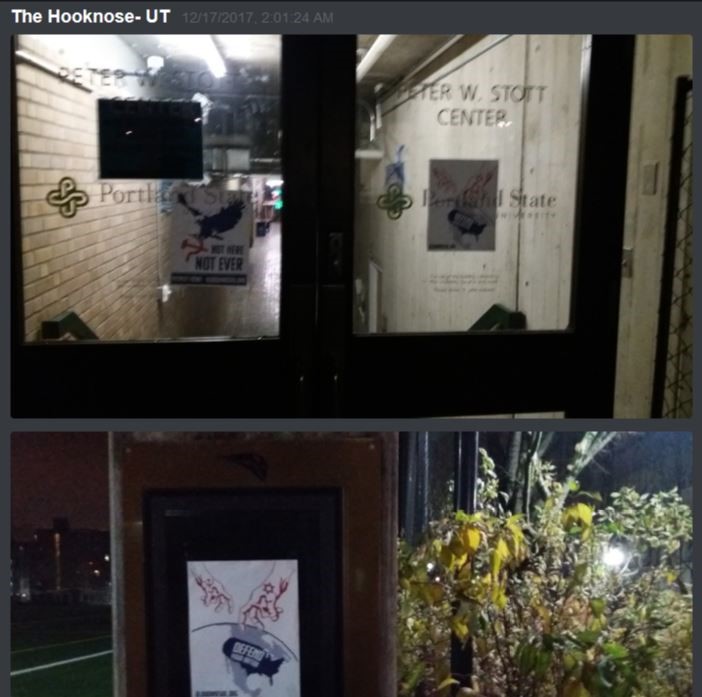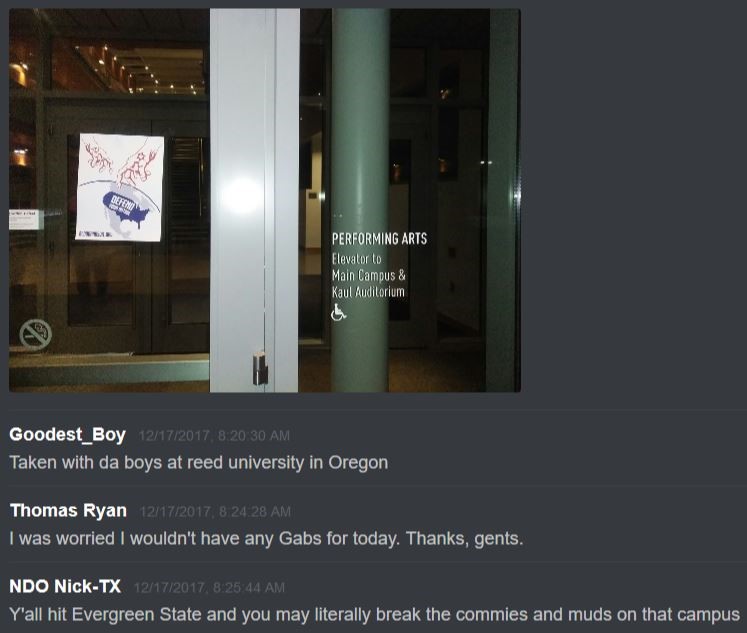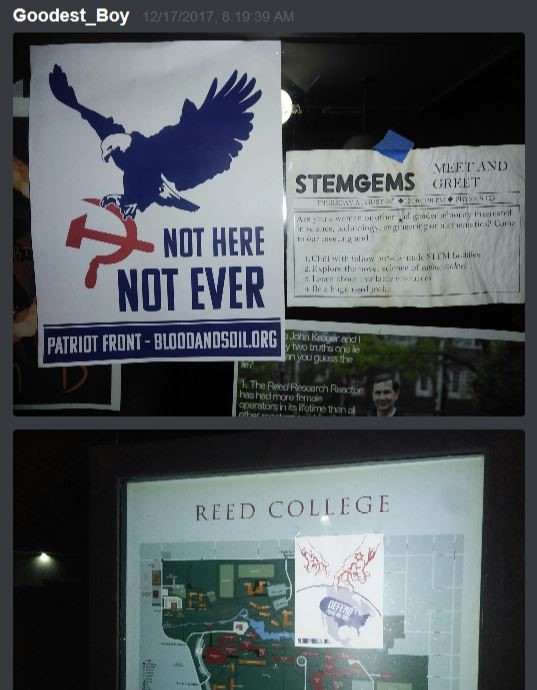 The Washington Front members flyered Tacoma, Washington in February of 2018.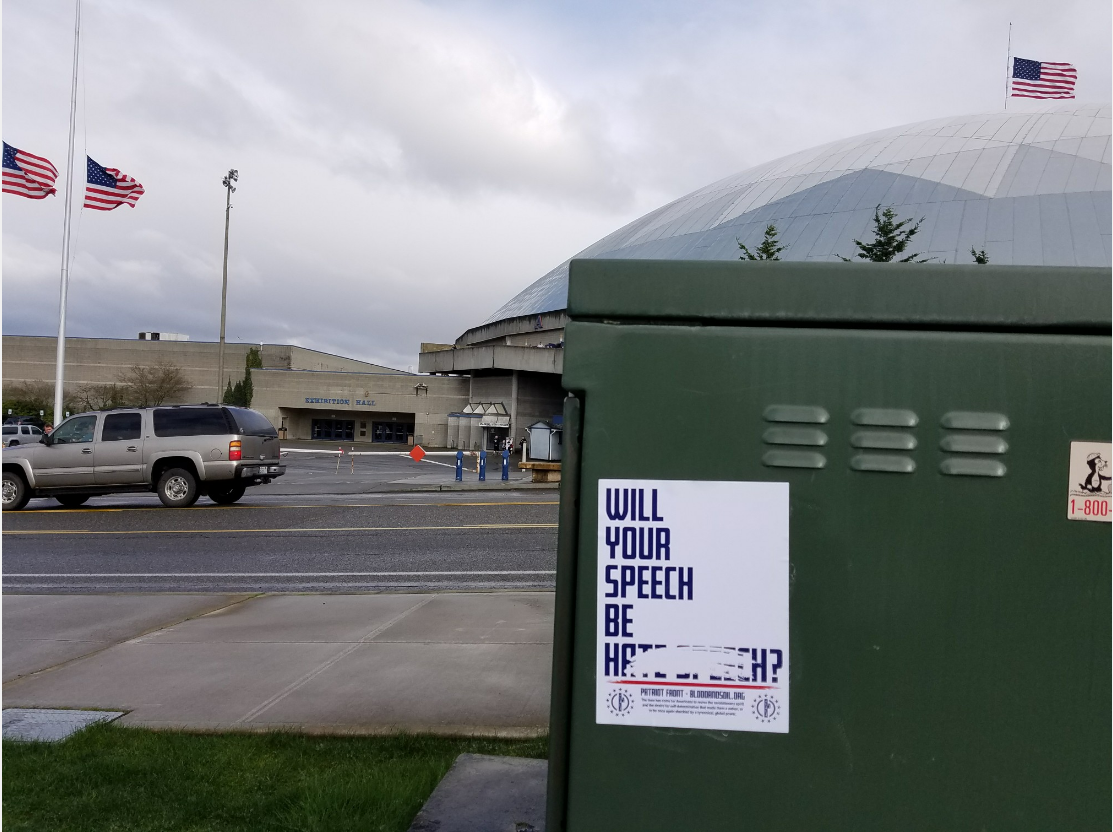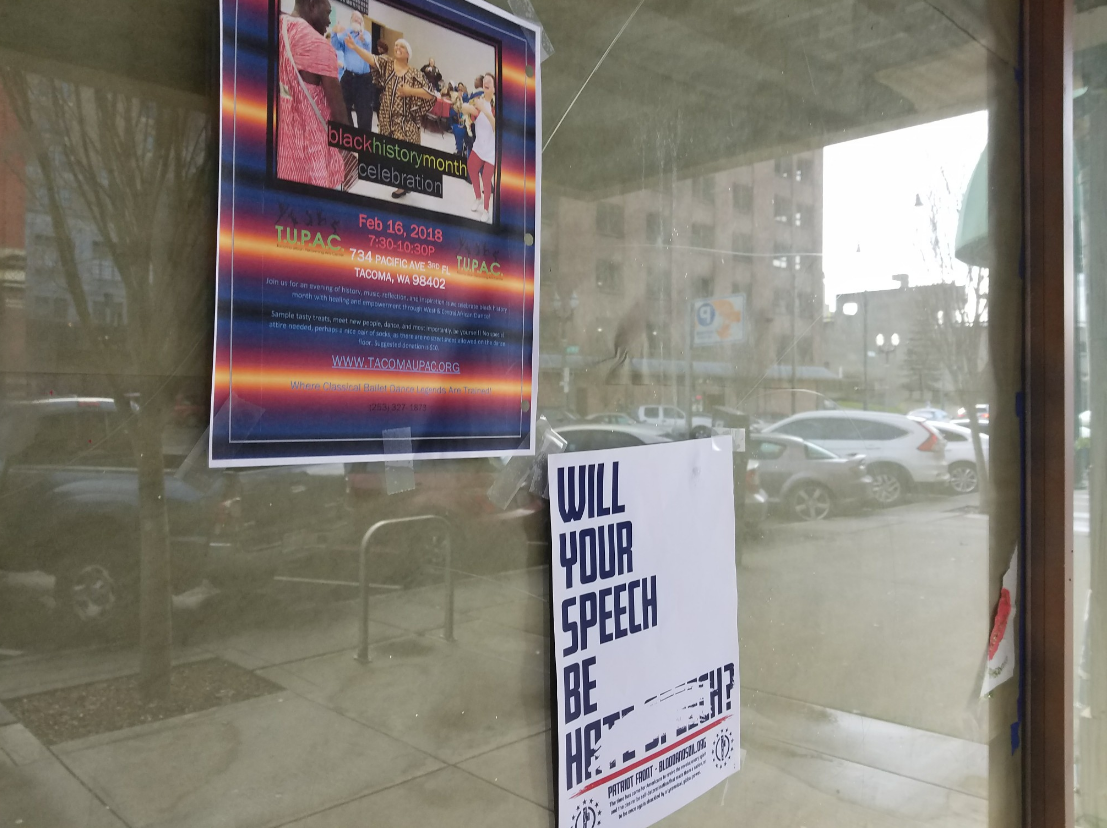 Washington Front member held a banner at Gas Works Park in Seattle, Washington in March 2018 (Valentine pictured in the center).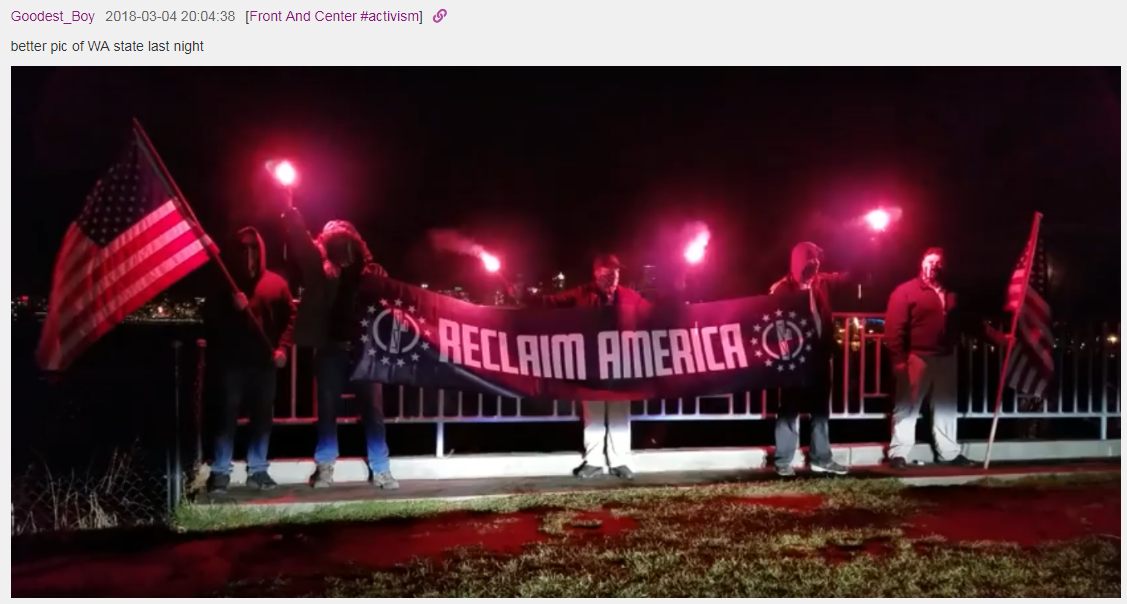 It appears that James Valentine and Jake Prior continue to flyer neighborhoods in Washington as there have been multiple reports.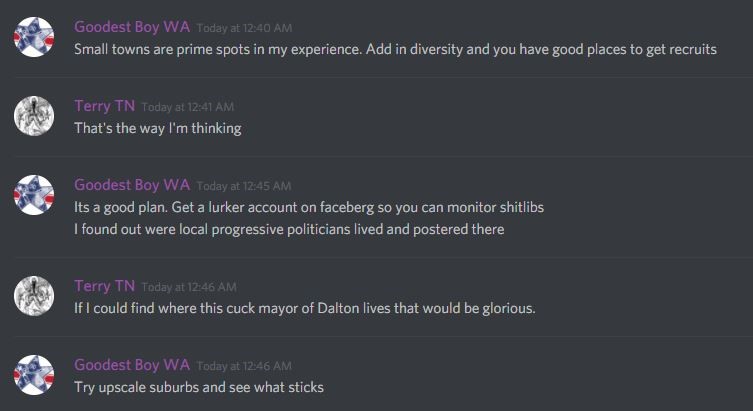 Anti-ICE and pro-immigration activists have reported harassment by Patriot Front members and an antifascist message on a billboard sponsored by Tacoma Against Nazis was vandalized by Patriot Front members.

In addition to posting pictures of their prolific propaganda campaigns in the Discord server "Front and Center," Valentine chats about Patriot Front optics, his wife (who he claims to have "fashed,") and discusses his racist and anti-Semitic beliefs.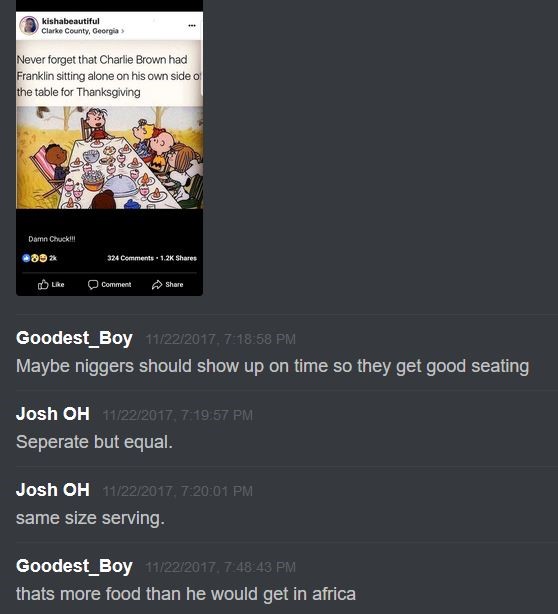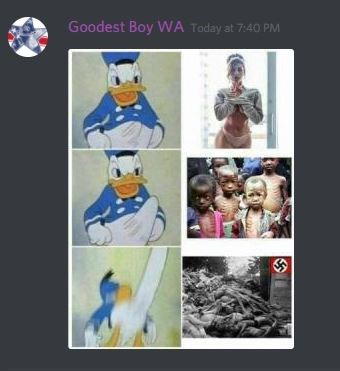 One of the key components of Patriot Front is their concern for optics. They attempt to present themselves as nationalists while hiding their neo-Nazi leanings. Valentine discussed this with another group member.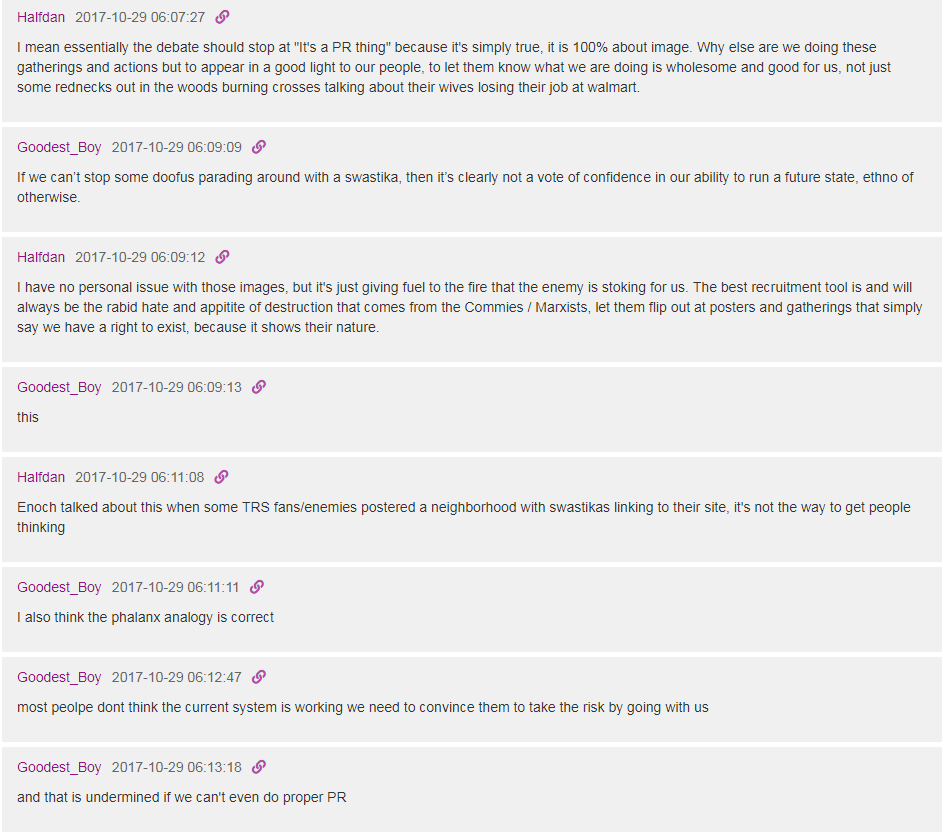 Valentine lives with his wife Christine Pritchett Valentine. Valentine discussed his wife in the chat and claims to have turned her into a fascist. Christine created fascist themed memes for Valentine to share in the Discord server and purchased materials for Valentine to use in his flyering campaigns.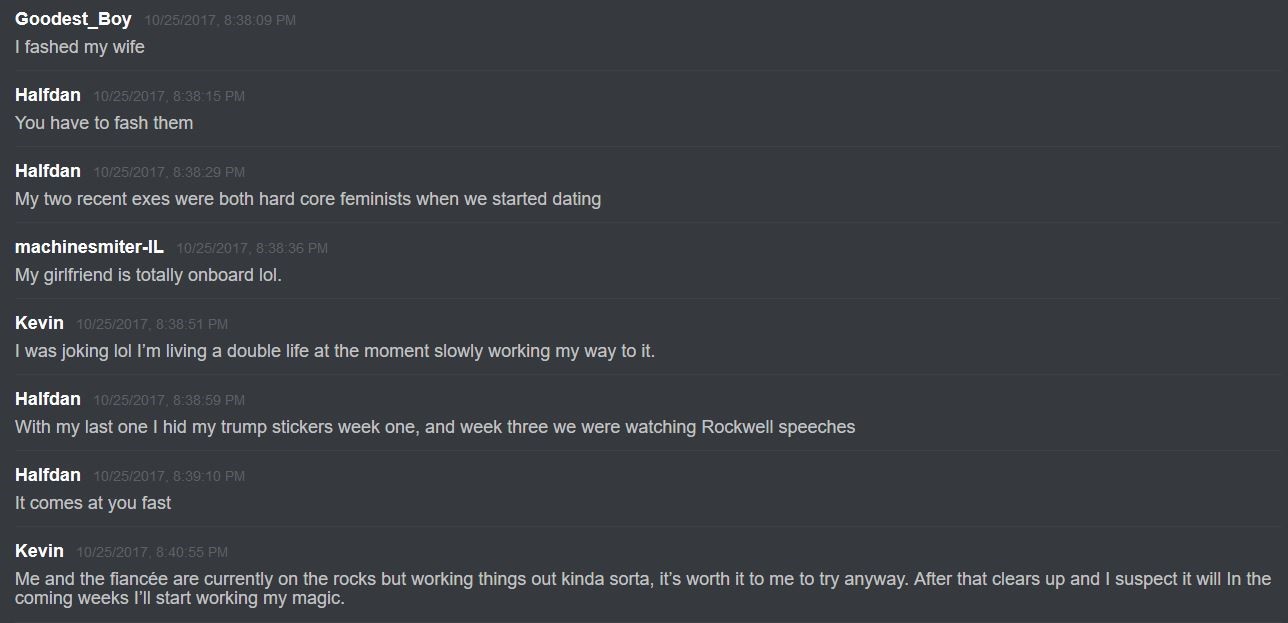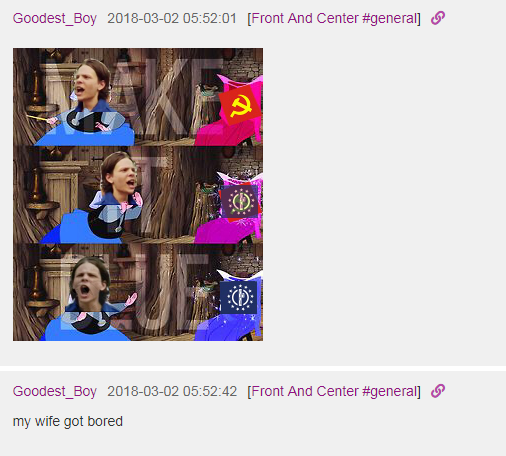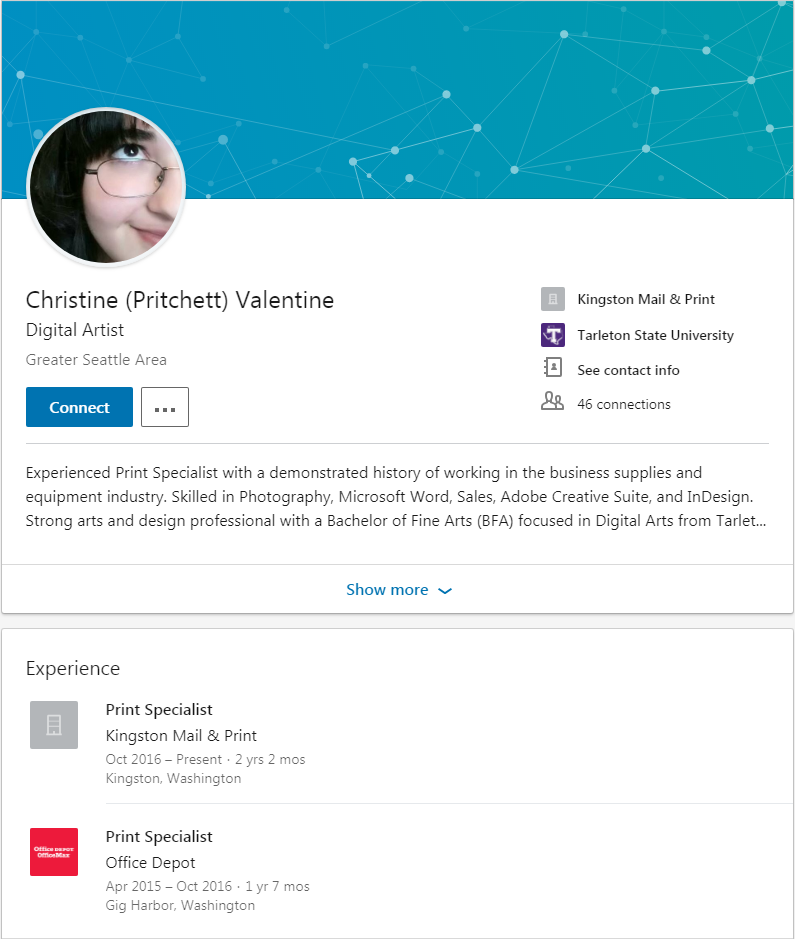 When Vanguard American split, many of its members began to organize with Thomas Rousseau as Patriot Front. Several remaining Vanguard America members opted to organize with Atomwaffen Division. While support for Atomwaffen Divison among Patriot Front members is not unanimous, many members openly embrace Atomwaffen Division's philosophy based upon the neo-Nazi contemporary classic book Siege. James Valentine is one member who openly shares his agreement with the sentiment of this book.

Siege is a primer for Atomwaffen Division members; it is especially important to monitor individuals who become infatuated with this text. Many Patriot Front members are simply fascists who are eager to organize with other fascists and are not necessarily committed to any one group. Many Patriot Front members have left the group and have gone on to organize with other groups. Jake Prior found Patriot Front tactics weak and went on to organize with a Hammerskins support group, Crew 38, instead. It is quite possible that when Washington's Patriot Front network dissolves, James Valentine will go on to organize with a different neo-Nazi group. It is for this reason and more that we must continue to monitor exposed fascists.
Please report any additional information you may have on other Patriot Front members, or on any racist or fascist activity to: WAnaziwatch@protonmail.com Twitter: @WAnaziwatch or to eugeneantifa@protonmail.com Twitter: @_eugeneantifa