Dustin Phipps isn't the first Leftist to flip from one side of the ideological spectrum to the other and he certainly isn't the first former Leftist to find their way into the membership of American Identity Movement (an American neo-Nazi and white supremacist organization recently referred to as "Identity Evropa"). Readers in the Houston, Texas area will recognize Dustin Phipps, most notably, as a former lead organizer of Occupy Houston during the later part of 2011 and the early part of 2012. After spending the bulk of his thirty and a half years in Texas volunteering with various social justice causes, Dustin now resides in Lehi, Utah (just south of Salt Lake City). He is a dues paying member and Utah Chapter Leader of a white supremacist organization, and serves as the group's Chief Technology Officer (CTO). Dustin Blake Phipps uses the alias "Gimlet." He is a patron donor to the organization and is responsible for building and maintaining the group's current communication platform on Mattermost which they call "Columbia."
We can trace Dustin's membership in Identity Evropa to as early as January 2018 where he had already established a position of authority within the white supremacist group. Dustin, as "Gimlet," administered an official Identity Evropa Discord Server called the "IE dev team" whose purpose was to serve as a communication platform for software developers within the organization. This team would focus on developing, building, and maintaining communication platforms for the wider group. The number of dues paying members on these Discord communication platforms peaked at just around 800 prior to the Discord chat leaks published by Unicorn Riot.
After Identity Evropa was deplatformed from Discord, the group temporarily communicated by another platform called "Slack." Again, the group's Slack chats were leaked and they were subsequently banned from that platform as well. Identity Evropa struggled with maintaining a consistent communication platform for their group. Some regional chapters utilized "Telegram," and they attempted to build at least one other communication platform referred to as "Mercury." Even before James Ambrose (the main developer of Mercury) was exposed, the endeavor failed to get off the ground and the project was never made available to the greater membership.
Currently, Dustin Phipps as the CTO provides the ability for the greater white supremacist organization of American Identity Movement to communicate, network, and organize with each other on Mattermost. Established at the beginning of March 2019, this platform has hosted, at it's peak, just over 400 registered, dues paying members. As pressure on this group ceases to let up from antifascists, we can note a consistent decline in membership with current numbers at just over 250.
Aside from Phipps' technological contributions to American Identity Movement, he has littered multiple university campuses and public venues with white supremacist propaganda. Phipps has traveled to numerous states to participate in national actions and conferences. Some of the activity we have tracked Phipps participating in include: flyering Weber State University in Ogden, Utah, leaving Identity Evropa business cards inside books at The City LIbrary in Salt Lake City, Utah as well as flyering the University of Utah and the downtown Salt Lake City, Utah area. Phipps' first national action was at "Defend the Rockies" which took place in Colorado in November 2018. This was followed by an anti-immigration action in Chicago in January of 2019 just outside of Rahm Emanuel's office. In February of 2019, Phipps co-hosted a "Defend Utah" action which followed with his attendance at the third annual Identity Evropa  "Leading Our People Forward" national conference in March of 2019 in the state of Kentucky.
Listen to Dustin Phipps aka "Jim" aka "Gimlet" describe his experience with Identity Evropa at "Defend the Rockies" here and here.
Another anti-immigration demonstration Dustin Phipps attended with Identity Evropa took place in Chicago, Illinois in January of 2019.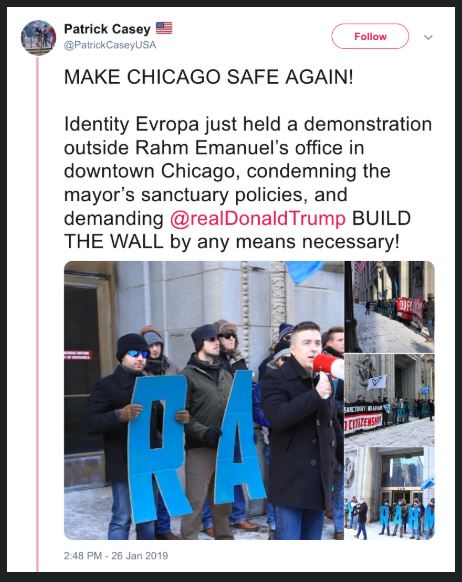 March of 2019 would bring a new decline in the organizing efforts of Identity Evropa. As the group was preparing to travel to Kentucky for their annual conference, "Leading Our People Forward," their members' chat messages in Discord and Slack were being prepped for publication. A handful of cherry picked individuals by Patrick Casey made up an elite internal group of the organization calling itself Leadership and the Advisory Council. It was simple to join: One mostly just needed to donate a lot of money to the organization. This small fraction of the entire group had planned a rebrand of the organization. In order to try to gain public favor, their strategy turned to appealing to American patriotism. Similar to Patriot Front's aesthetic but with a strict "no overt Nazi symbolism or rhetoric" in public forums, Identity Evropa became American Identity Movement. This rebranding decision was made by the elite internal group with virtually no knowledge to the majority of their membership. Dustin Phipps attended this conference and the action that followed it in Tennessee.
Dustin Phipps once advocated for immigration rights, admired the political work of trans people, and worked alongside of Brown and Black economic and social justice activists. He advocated for humanitarian relief for Haitians and Hondurans. Dustin grew up in a multicultural neighborhood in Katy, Texas, organized with social justice activists while in college in Houston, Texas, and traveled to other non-white majority countries such as the United Arab Emirates and Thailand. In addition to English, Dustin speaks some Spanish and French. But a closer look at Dustin's years as an economic and social justice activist uncovers some doubts at his commitment to Leftist ideals. For example, he did not support all of the Occupy Wall Street demands. As an Occupy Houston lead organizer, he did not agree that higher education should be free for everyone nor would he declare that everyone deserved a guaranteed income. As a cis-White male, Dustin seemed to frequently talk over women and people of color rather than help amplify their voices. Listen to Dustin, in his own words, what his thoughts were at this time. Dustin seemed to be one for embellishment, visions of grandeur with often changing goals. He claimed to be a medical student, or pre-med, when he merely attained a Bachelor's Degree in General Biology. Phipps claimed to be a military veteran of Operation Enduring Freedom and Operation Iraqi Freedom having served in the Navy. Yet, we are unable to independently confirm that Phipps served in the Navy at all aside from a notation on his resume stating he spent some time employed by the US Navy as a Communications Electrician.
What is not an uncommon phenomena among budding white nationalists is a trend of become radicalized with the 2016 election of Donald Trump. This is the time frame we have tracked Dustin Phipps' transition from more Leftist views to more Far Right views. While once a trans accepting person, Phipps now joins his fellow American Identity Movement members is directing hatred towards transpeople. While once advocating for immigration rights and humanitarian relief in what some call "third world countries," now Phipps participates in public anti-immigration demonstrations. While once organizing with Brown and Black people for economic and social justice, now Phipps has bought into the "white genocide" lie.
Dustin Phipps is a member of one of the main organizations that planned the Unite the Right Rally in Charlottesville, Virginia. At this white supremacist rally, one antifascist woman was killed by a neo-Nazi and numerous other antifascists were injured. Even given the facts of the situation, Dustin Phipps is resolved in his support for Alex Fields, the neo-Nazi terrorist who drove his car into a crowd of antifascists murdering one. Recently, Fields was sentenced to life in prison for his crimes.
What caused Dustin Phipps to embrace white nationalism is a question only he can answer.
ADDITIONAL DETAILS
Full name: Dustin Blake Phipps
Birthdate: 11/27/1983
Mobile telephone: 281 543 2095
Email: dbphipps@comcast.net
Last known address:
4200 North Seasons View Drive Apartment 03121
Lehi, Utah 84043-6273
https://www.facebook.com/seasonsoftraversemountain/
Facebook:
Twitter:
Previous employer:
Owlet Baby Care, Inc.
Lehi, Utah
Position: Senior DevOps Engineer