Internal Neo-Nazi Chat Leaks
Several months ago, the Discord chat logs of the hate group Identity Evropa were published by Unicorn Riot, sparking antifascist groups around the country to #IdentifyEvropa. Shortly after, the group was rebranded as American Identity Movement (abbreviated "AmIM" to avoid confusion with AIM, the American Indian Movement). Despite the name change, this is still the same violent neo-Nazi group that planned the deadly Unite the Right rally in Charlottesville in 2017. In 2018, a dues-paying member of the group painted Swastikas on an Indiana Synagogue and attempted to set fire to it. Today, we identify another member of AmIM/Identity Evropa: Meet Kerrick Andrew Martin.
Identity Evropa/American Identity Movement's Lead Propagandist
Kerrick Andrew Martin (DOB 1-12-1995) is a dues-paying member of American Identity Movement (formerly Identity Evropa) and serves as the group's lead video editor and producer. Kerrick records and edits videos of banner drops and actions which are then uploaded to video sharing sites like YouTube and Bitchute to recruit new members. YouTube recently deplatfromed AmIM and several other large white supremacist accounts, a long overdue move for a site overrun with white supremacist content. In addition to AmIM, Kerrick produces videos for American Renaissance (AmRen), a white supremacist group founded by Identity Evropa ally Jared Taylor. Kerrick Martin contributed hundreds of messages to the Identity Evropa Discord server as "FACINEMA". On Slack, Kerrick used the alias "Bryan F.A.(Cinema)," and was "aimless-nation-wa" after the group switched all messaging to the chat program Mattermost.
Education
Kerrick Martin began learning video production skills at Sonoma Valley High School in California. He learned through the school's media arts program and when he graduated in 2013, he netted several media-related scholarships. For the next three years, Kerrick worked towards a bachelor's degree in Business Administration at Santa Rosa Junior College. After that, he spent time studying accounting and finance at Sonoma State University in California and lived in Sonoma and Rohnert Park, California.
Employment
In addition to his white supremacist cinematography, Kerrick Martin runs a video production outfit called Blue Rig Media Flashpoint Films (BluR Media Co), which is now based out of Vancouver, Washington. Blue Rig Media has done multiple videos for Clark County businesses like the Grant House Eatery, Three Brothers Winery, and the Heisen House. These videos are part of his "Best of Clark County" series, an effort to build his resume which he mentions on Discord. The shooting and editing techniques showcased by Kerrick through "Blue Rig Media" are identical to the techniques deployed in more recent American Identity Movement videos.
Fascist Ideology
The chat leaks also reflect, by Kerrick's admission, that his parents began "redpilling" him from a young age. It is unclear how and when Kerrick developed his full-fledged neo-Nazi views, but he adopted the pseudonym "FACINEMA" in August 2017. Two months later he was welcomed to the Identity Evropa Discord server. Kerrick has both a YouTube and Twitter account which use variants of the alias, both of which emerged around the same time. His fashy YouTube channel contains a single video of Bishop Richard Williamson, an anti-Semite who has been excommunicated by the Catholic church on two separate occasions. He was recently fined in Germany for holocaust denial remarks given in a 2008 television interview. Kerrick is viciously anti-Semitic himself and his Twitter is laced with vile anti-Semitic memes. A playlist from Kerrick's channel titled "Demo Reel" contains videos from the 2018 American Renaissance conference, an annual suit-and-tie white supremacist meet-up that occurs in Tennessee. This year, the AmRen conference was met with a large anti-fascist counter protest.
In one tweet, Kerrick Martin 'replies' to our comrades at Colorado Springs Antifa and says that he joined Identity Evropa after being attacked at a Kate Steinle rally. He claims that he was passively taking video at the rally when a "member" of antifa shoved him, causing him to spontaneously join a white supremacist group and edit videos for them. We are not aware of any medical cases wherein a "shoved" individual magically adopts neo-Nazism, but you never know these days. The larger issue with this antifa boogeyman story is that it is entirely fabricated. The death of Kate Steinle was exploited by white supremacist groups, including Identity Evropa and local Daily Stormer book clubs. After a jury deemed that the shooting was accidental in December 2017, several far-right groups rallied in Kate's name, including Joey Griftin' Gibson. The Discord Leaks show that Kerrick Martin joined Identity Evropa in October of 2017, more than two months before any Kate Steinle rallies actually occurred.
White Supremacist "Activism"
Apart from video production, Kerrick has taken part in many Identity Evropa actions, including the 2019 Identity Evropa annual "Leading Our People Forward" conference held in Kentucky and the national action "Defend the Rockies" held in Colorado in November 2018. Racist chuds from around the country emptied their wallets for plane tickets to go stand in a snowstorm in Colorado to hold an anti-immigrant banner. After this event, Kerrick collected video clips from other members, which he compiled into a propaganda video for the group's now defunct YouTube channel. Kerrick aided in earlier actions as well, like an October 2018 banner drop in Redding, California, with members of the NorCal chapter like Joshua "Bogl" Lourenco. In April 2018, Kerrick and another Identity Evropa member plastered stickers and posters around Sonoma State University, where Kerrick was attending college.
After the Discord server was leaked and the doxxes poured in, Patrick Casey changed the group's name to American Identity Movement (AmIM) and adopted a Patriot Front aesthetic. Kerrick Martin remained a member of the rebranded group and continued his duties as chief videographer. AmIM hosted a week of action in Washington DC in April 2019. During this hate-cation, a dozen members of the group disrupted an author's talk at the bookstore Politics & Prose. The white supremacist crew chanted and marched around the bookstore for several minutes while Kerrick Martin recorded footage, which was later uploaded to several video sharing platforms.
Bad Driver

In late September, Kerrick Andrew Martin traveled from California to Idaho to meet up with some Identity Evropa members and offer to share his film-making skills. On September 23rd, 2018, Kerrick was driving his '16 Nissan Altima through Nampa, Idaho, when he failed to properly yield at an intersection and hit another vehicle. He suffered light injuries and received help from an Idaho member of Identity Evropa who used the alias "BigBadSaxon" on Discord. The next day, Patrick Casey commended "BigBadSaxon" for aiding "[Identity Evropa's] trusty video editor." Kerrick's vehicle was seriously damaged in the crash.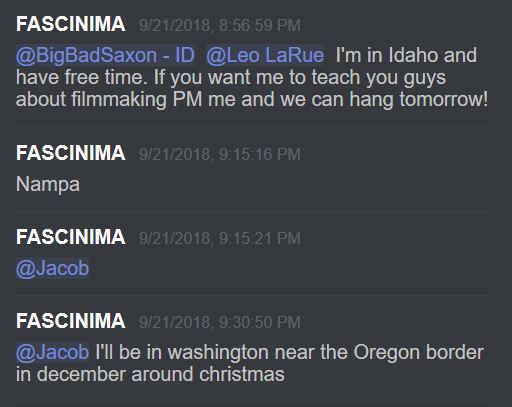 Family
Like Patrick Casey, Kerrick Martin is not married. Kerrick tells us in the Discord server that he has a girlfriend who is also receptive of his fascist ideology. He describes her habit of sending him racist memes, the challenges of being able to visit her, and his hopes of marrying and having children with his white and blue eyed girlfriend. Despite our efforts, we have been unable to independently confirm that Kerrick actually has or had a girlfriend.
In late November 2018, Kerrick Martin moved from California to La Center, Washington. He lives with his parents near Vancouver in a suburb called La Center. Records show that his parents, Michael and Glenda Martin, purchased their half-million dollar Washington estate in late 2017. Kerrick's Discord messages indicate that his parents are supportive and may share his neo-Nazi views; that they actually began "redpilling" him at a young age. In one Discord message, Kerrick says that his family loves listening to the weekly "Fash the Nation" episode. Fash the Nation is a white supremacist podcast linked to the fascist "The Right Stuff" podcast network.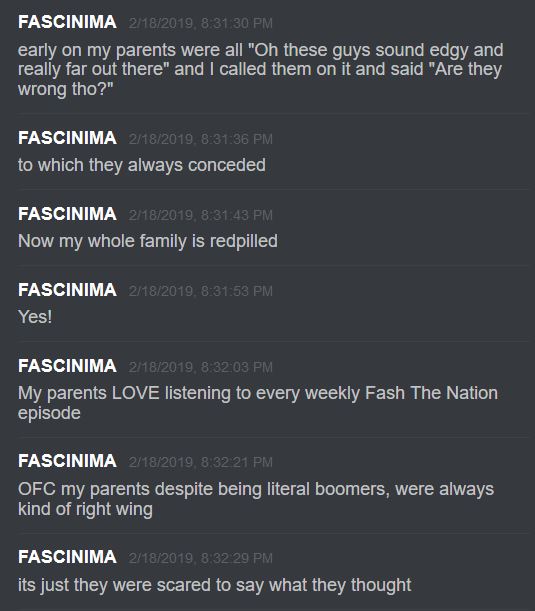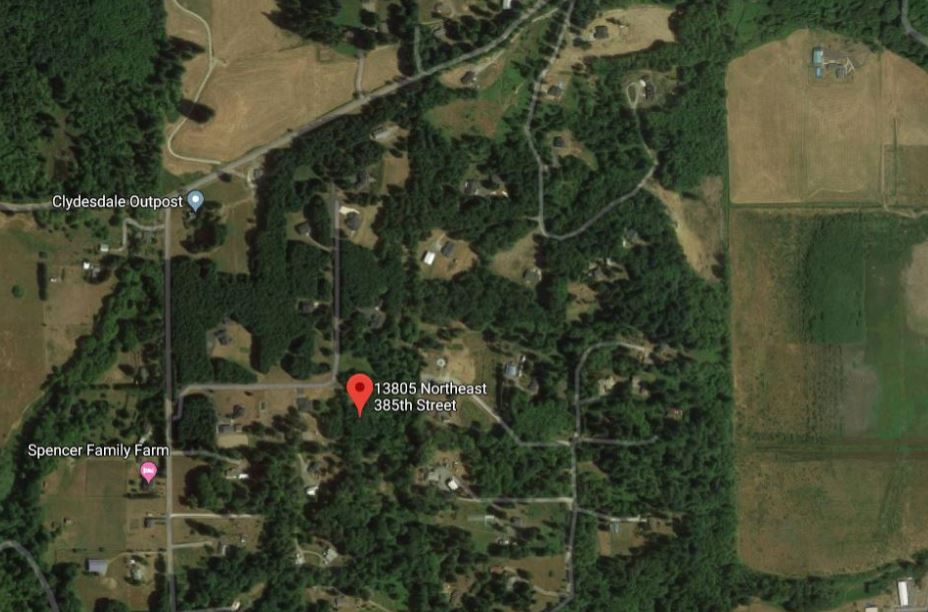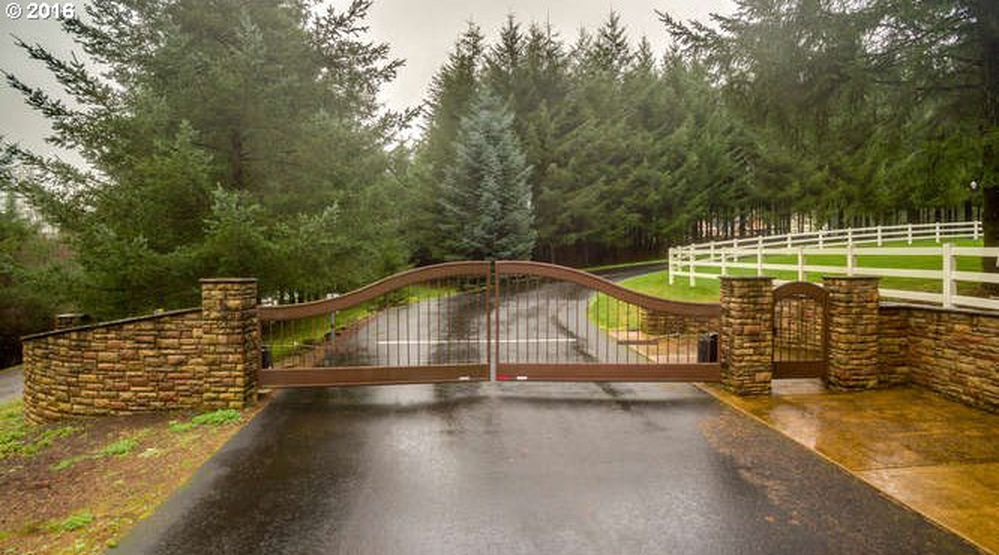 Aspiring Cop
Kerrick Martin hopes to start a new career in Washington, which he teases in the Discord chats. He writes that for his new job, he needs to stay in shape and be able to run 1.5 miles in under 14 minutes. This is the common metric used by Sheriff's departments to gauge potential deputies. Kerrick Martin is part of the Franklin County civil service roster, meaning he is eligible to become a Franklin county Sheriff. We encourage our readers to contact the Franklin County Civil Service commission and demand that they revoke Kerrick Martin's eligibility due to his well-documented involvement in a white supremacist hate group.
Please contact  the Franklin County (WA) Human Resources department and request that they investigate and disqualify Deputy Sheriff applicant Kerrick Andrew Martin due to his involvement with Identity Evropa/AmIM, which violates Rule 6, Section 1 of the Franklin County Civil Service Commission's "Rules and Regulations," which holds that an applicant must "be of good moral character."
Email: hr@co.franklin.wa.us (*Do not use a personal email)
Phone: *67 (509) 546-5813
Kerrick Andrew Martin
DOB 1/12/1995
Clear Photos